Newsroom
Visit from Habitat Guatemala

On May 10, 2018, the Lima Area Habitat for Humanity hosted one of their international partners, Habitat Guatemala. Representing the country was Executive Director, Victor Velazquez and Director of International Resource Development, Makensie Brown. They brought greetings to us from Guatemala and shared valuable information about the country and its needs, especially in decent, affordable housing.
Lima Area Habitat has been a partner with Habitat Guatemala since 2005. During this 13 year partnership, the Lima affiliate has tithed $98,882. This tithe has impacted over 79 families in Guatemala through the construction of 13 homes, and 66 smokeless stoves, water filters, and hygienic latrines. The Lima Area affiliate gives 10% of its unrestricted income toward international Habitat for Humanity work.

Flooring Refurbishment in the Lima ReStore

began on Saturday, February 17, 2018. On that day 92 volunteers, plus about 25 staff moved all the ReStore showroom inventory into storage for a week. 325 total volunteer hours were generously offered. Semi-trailers and storage pods were filled. Immediately after, Elite Concrete Creations began repairing the showroom floor and laying down a new surface, which will offer a safer environment for our shopping and a needed facelift for the look of the ReStore. Then on February 24, 71 more volunteers, plus numerous staff members moved all the inventory back into place. In total we had 167 volunteers give 718 hours to the project. This was a major undertaking for the Habitat and ReStore staff. We are appreciative to the many sponsors and volunteers who helped us make this possible. On Tuesday, Feb. 27, the ReStore re-opened its doors at 10:00am. Then on Saturday, March 30, the official unveiling of the new floor culminated with a ribbon-cutting ceremony.

Volunteer Groups

The following organizations sent four or more volunteers to help with the ReStore Floor Project:

Bluffton University Golf Team

Bluffton University SERVE

Bluffton University Soccer Team

Ohio Northern University Theta Chi

University of Northwestern Ohio Rotaractors

Completion of House #54:

The Lima Area Habitat completed its 54th house this fall in Delphos. The home was dedicated on Sunday, October 22. Roger Calvert was the Construction Manager for the project. Many volunteers, staff, sponsors and partners gave of their time, resources and energy to make possible this wonderful day. Note Executive Director, Bruce Hilty (far right), commencing the dedication service for new home owner, Monica (far left), while other family and friends look on.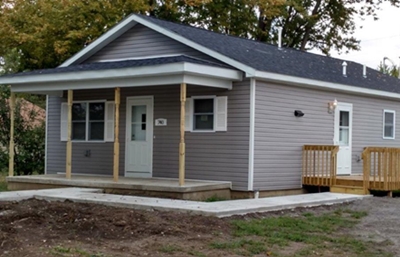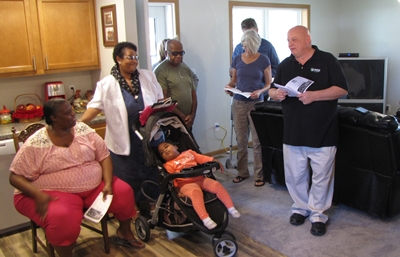 The Lima Area Habitat was honored in the Top 10 Tithers by Habitat for Humanity International. Check out the Intermediate Affiliates serving a population of 50,000-99,000 people.

Learn about one of Lima's international partners through Habitat for Humanity International.