Newsroom
Flooring Refurbishment in the Lima ReStore

will be taking place from February 17-24, 2018. On Saturday, February 17, around 100 volunteers will be moving all the ReStore showroom inventory into storage for a week. During that time, Elite Concrete Creations will be repairing the showroom floor and laying down a new surface, which will offer a safer environment for our shopping and a needed facelift for the look of the ReStore. Then on February 24, 100 more volunteers will move all the inventory back into place. This is a major undertaking for the Habitat and ReStore staff. Please consider volunteering to help with this project. More volunteers are needed! Contact Us. A Grand Re-Opening of the Lima ReStore will take place a few days later. Stay tuned for more details.

Completion of House #54:

The Lima Area Habitat completed its 54th house this fall in Delphos. The home was dedicated on Sunday, October 22. Roger Calvert was the Construction Manager for the project. Many volunteers, staff, sponsors and partners gave of their time, resources and energy to make possible this wonderful day. Note Executive Director, Bruce Hilty (far right), commencing the dedication service for new home owner, Monica (far left), while other family and friends look on.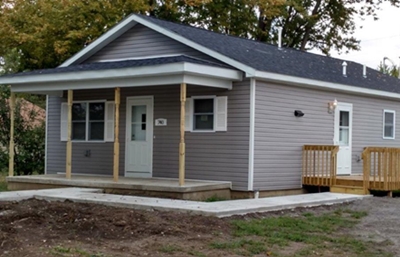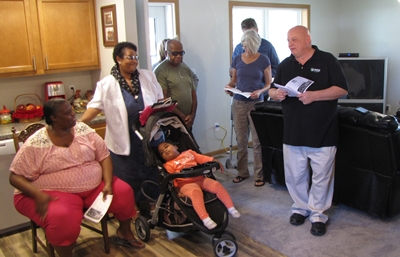 The Lima Area Habitat was honored in the Top 10 Tithers by Habitat for Humanity International. Check out the Intermediate Affiliates serving a population of 50,000-99,000 people.

Learn about one of Lima's international partners through Habitat for Humanity International.