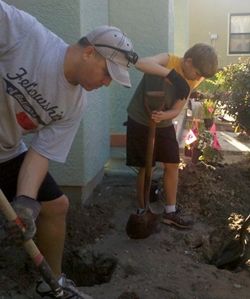 While it is of educational and altruistic significance that children/minors be involved with the work of Habitat for Humanity, it is also important that they be involved only in age-appropriate activities. Safety is the most important issue for the well-being of any children/minors involved with our affiliate. Under federal regulations, minors ages 14 and 15 are only allowed to work outside school hours and for a limited number of hours during a school week. While 14 is the minimum age of employment allowed by federal regulations, we will attempt to find appropriate activities for children under the age of 14 to interact with Habitat for Humanity.
The Lima Affiliate will provide adequate supervision and training for any children/minors working with the affiliate. There will be at least one adult for every three children/minors on any work site.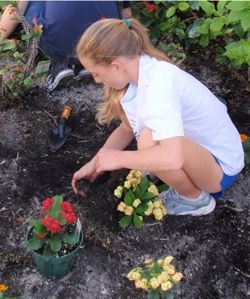 Construction
In recognition of federal labor laws regarding children and the potential risk to children's safety on a construction site, no one under the age of 16 is allowed on a construction site while construction is in progress. Further, no one under the age of 18 is allowed to do any ultra-hazardous activities, which includes the use of power tools or motor vehicles, demolition, roofing or working from a height of six feet or more, or excavation operations.  In addition, during blitz builds many tasks are going on simultaneously and it is difficult to limit minors to age-appropriate activities. Therefore, blitz build volunteers must be at least 18 to participate.  Minors, ages 14 and 15, may paint or landscape a Habitat house, but only on days when there is no active construction happening at the site. 
ReStore
ReStore volunteers may be 14 or older and must be 16 or older to work beyond the front showroom.  We can also look to provide unique, appropriate opportunities for those who may be younger than 14.
 
All
All minors must complete a liability waiver and have it signed by their parent or guardian.
In addition, safety training will take place before starting any work.
For more information, view the Practical Guidance-Youth involvement for Habitat volunteers.