It Takes a Community to Build a Habitat House!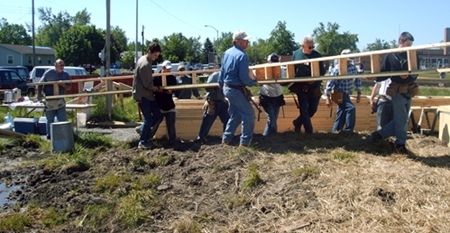 Habitat for Humanity-Lima Area, Inc. utilizes a Family Selection Committee to guide the selection process for a Partner Family. Habitat believes and insists on nondiscriminatory family selection criteria for all homeowner families. Since its start, Habitat for Humanity has always believed that everyone deserves a decent place to live. We follow fair housing laws and do not discriminate based on race, color, religion, sex, familial status, ancestry, military status, disability or national origin. We also, in accordance with the Equal Credit Opportunity Act (ECOA), do not discriminate against credit applicants on the basis of race, color, religion, national origin, sex, marital status, age, or source of income.
A.  A demonstrated need for adequate and affordable housing:  Partner families must demonstrate that their present housing arrangement does not qualify as adequate shelter. Examples of inadequate/unaffordable shelter are: 
Structural issues - problems with wiring, plumbing, etc. 
Overcrowding with more than two people per bedroom or persons sleeping in areas typically designated as a living space, such as a living room. 
Homeless - Living in temporary housing with relatives, transitional housing, in an automobile, etc. 
Cost-Burdened - family is paying more than 30% of their income on housing. 
Unsafe and/or unsanitary living conditions inside and/or outside the dwelling. 
Family has tried and is unable to obtain a loan from other sources. 
Family has tried and is unable to obtain decent affordable rental housing. 
B.  Ability to make monthly house payments:  The average monthly payment for a Habitat for Humanity house is $450. To be approved for a house an applicant must demonstrate the ability to make such monthly payments.  There must be sufficient income (gross) to afford not only the monthly payments, but also other costs associated with home ownership. 
Gross income is based on the TOTAL household income, including public assistance, child support, alimony payments and funds obtained from the employment of ALL people living in the home.  The gross income must fall between 40% and 80% of the area median income.  Applicants must demonstrate that they have had this level of income for a minimum of six months prior to applying. 
In addition, applicants must not currently be in bankruptcy.  If they have been involved in a bankruptcy in the past, it must have been fully discharged by the Courts for 2 years before an application will be considered.  
The amount of debt the applicant has at the time of application is also a critical element in being approved for a house.  The total amount of debt cannot be more than 40% of the total income.  Debts include such things as payments on consumer loans, credit cards, and car loans.  Also, debt load includes any payments to resolve credit issues found in a credit report that will be run at the time of application.   Any collections that appear on the report must be dealt with either through pay-off or the establishment of a payment plan.  
Use the chart below to determine your family's financial eligibility.  Total household income for an entire month must fall within the range that matches your family size.  
Year 2022 Guidelines
| Family Size | Minimum Annual Income | Maximum Annual Income | | |
| --- | --- | --- | --- | --- |
| Two | $23,980 | $47,450 | | |
| Three | $28,190 | $53,400 | | |
| Four | $32,400 | $59,300 | | |
| Five | $36,260 | $64,050 | | |
| Six | $40,095 | $68,800 | | |
| Seven | $43,930 | $73,550 | | |
| Eight | $44,960 | $78,300 | | |
C.  Willingness to Partner:  Habitat believes that personal involvement in the whole process causes greater responsibility in home ownership.  The new homeowners become a Partner Family.  The term used for this personal involvement is Sweat Equity.
Habitat for Humanity-Lima Area, Inc. requires the following hours of Sweat Equity for each Partner Family:
A single person or single parent: 200 hours 
A married couple (or if two jointly wish to own a house): 300 hours (will be determined based on the family structure)
In addition, for either scenario above:  200 hours invested by family and friends 
Sweat Equity may be done in a variety of ways: 
Working on the preparation of your lot for construction 
Working on the actual construction, in cooperation with volunteers under the instruction of the Construction Manager 
Working in the Habitat office or in the ReStore 
Taking home-ownership training classes 
Working with other non-profit agencies in the area 
Key questions to ask about the Sweat Equity: 
Are you willing to sacrifice time from other activities to make this dream possible? 
Are you willing to be taught to do work that you may not know how to do? 
Are you willing to get dirty, working sometimes in hot, sweaty conditions? 
Are you willing to take classes that help you understand the responsibilities of owning a home:  financial accountability, maintenance, and foreclosure prevention? 
Do you understand that if you do not fulfill the sweat equity requirements by the time the house is ready to occupy, you may not be able to take ownership until the sweat equity is completed? 
Other Information
While the three areas outlined above are what we consider in selecting a family to become a Partner Family, please keep in mind the following factors.   
    •    Once you move into your house, you will be responsible for taking care of it.  While we do provide a one-year limited warranty on the house, how you maintain the house is critically important.  
    •    Give the application process high priority, especially in accurately gathering the needed material and getting it to the Family Selection Committee for review.  
    •    Before a house can be built, a lot must be secured and the finances for covering the costs of building must be raised.  
    •    While Habitat for Humanity is a corporate entity, in practice it is a community of committed people, churches and sponsors who make all this possible.  As a Partner Family and Habitat homeowner, you then become part of that community.  Remember that more than 50 families have qualified in our affiliate and thousands of others in many other affiliates around the country.