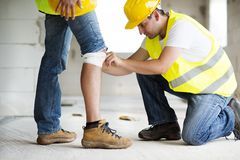 Construction and retail settings can be dangerous, which is why safety is our #1 priority every day, on every job site, with every person.
We want all our volunteers to be safe on site and to feel comfortable doing their work. We do not assume our volunteers know all the safety rules and we train each volunteer for each day's work. Additionally, we encourage our volunteers to ask for help if they have a safety concern.
What to wear: 
Closed-toe and heel, sturdy shoes are mandatory! 
Volunteers should wear apparel that is appropriate for their specific work area and weather conditions. Jeans and t-shirts are acceptable at the construction site and the ReStores. 
When necessary, volunteers must wear personal protective equipment.
Construction volunteers may wear shorts, but they must be a modest length.
No loose jewelry or clothing should be worn that could get caught or snagged on something on the construction site.
ReStore volunteers must wear long pants—no sweatpants, leggings, or athletic gear, and no tank tops.
Any clothing with disturbing messages or provocative in nature, which could be viewed by others as offensive or suggestive, is prohibited.
Before Volunteering
Every volunteer is required to go through orientation before working on any of our sites: